3-Year Russian Visa Application Requirements and Tips
Written By: admin
|
13/11/2012
|
Posted In: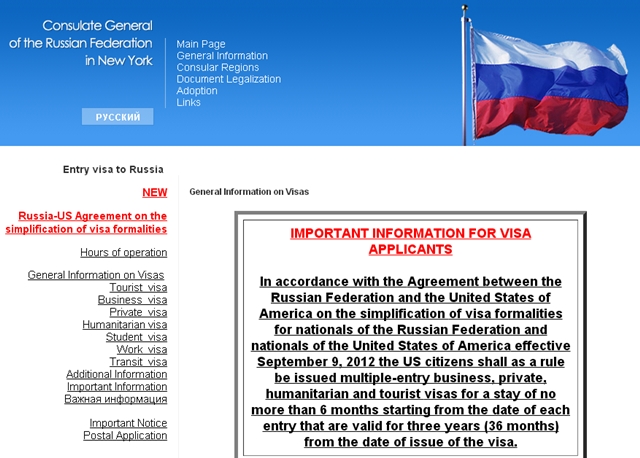 Applying for a Russian visa can be time consuming and rather expensive for U.S. citizens, but on September 9, 2012 it got better for anyone who may be going more than once to Russia in a 3-year period: you can now get a 3-year, multiple entry Russian visa.
That means, for anyone flying Singapore Airlines via Moscow Domodedovo (DME), you can actually spend some time in Moscow rather than just staying airside. Now, some may still not want to, whether due to irrational fears of the Russian mafia, worries about grappling with the language, or practical concerns about expense (and central Moscow is expensive). But where's you're sense of adventure? It's an amazing, vibrant capital city, where I thoroughly enjoyed living and working a couple years. So having been through the process, here are my tips for getting the new 3-year multiple entry Russian tourist visa:
RUSSIAN TOURIST VISA REQUIREMENTS
Here's what you really need when applying for a 3-Year Multiple Entry Russian Visa as a U.S. citizen:
1. U.S. Passport Valid for at Least 6 Months Past the Visa Date
Does your passport expire in less than 3.5 years? You can still get a multiple entry visa, but it will just be good for the life of your passport, less 6 months. So, for example, if your passport expires in 2.5 years, your Russian Visa would be valid for 2 years.
2. 2 Passport Photos
Many print and copy shops in NYC offer passport photos even cheaper than the U.S. Post office, and with less of a wait. Check Yelp and call ahead to make sure.
3. Online Russian Visa Application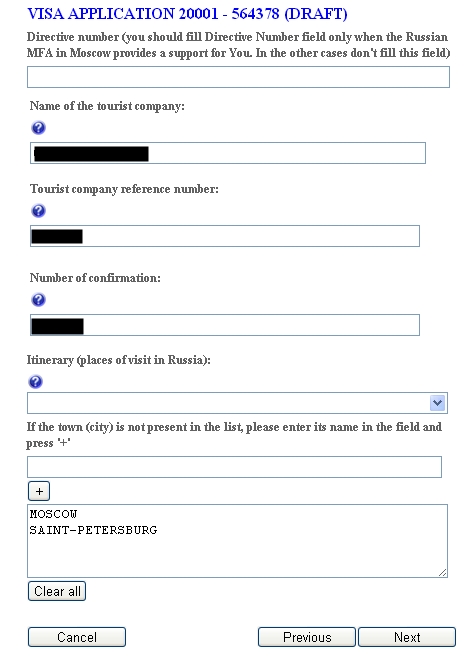 4. Hotel Reservation for at Least the First Day of the Visa
Note that if you want to use hotel visa support for your visa application, you MUST have a hotel reservation for the first day you need the visa to start from, i.e. your first day in Russia. If, for example, you're planning to take an overnight train that first night, you should instead opt for a tourist invitation from Way to Russia or similar, because ILS and the Russian Consulate will NOT grant you a visa starting from a date that you don't have a tourist company number and confirmation number for.
On the other hand, because of the 3 year visa, you DON'T have to worry about hotel reservation visa support for subsquent dates during your stay. You can figure those out later, you just must have support for that first day your visa is valid from.
5. Visa Support Confirmation from the Hotel, Including Tourist Company Number and Confirmation Number
After you make your hotel reservation, request visa support. My experience with the hotels I requested it from is that it was very fast, and I received it within 24 hours of requesting, but these were also 4-5 star hotels. I wouldn't leave it to the last minute, in case there is any kind of delay.
Also note: by getting visa support from a hotel, you are committing to stay at the hotel. Hotels that provide visa support generally have you agree that, if you end up cancelling the reservation, you'll owe them money for the visa support. So if you don't want to be bound in this way, just go with a normal Russian visa invitation service, as the fee is usually a bit cheaper, although it also tends to take longer.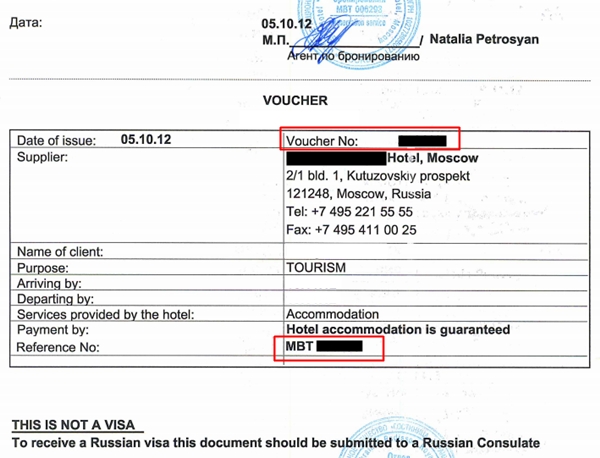 6. Fee of $ 235
Note that you *cannot* pay by credit card or personal check; you must pay with cash, bank transfer, money order or cashier check ONLY (payable to the Invisa Logistic Services LLC). While the chart says $ 210 for an in person application, there is also a $ 25 additional review fee for 3-year visas, bringing the total to $ 235.
The Russian Consulate may also request the following, but none of them were needed for my application:
- a bank statement from the applicant;
- a statement from the employer regarding the applicant's wages for the preceding year, half year or month;
- medical insurance valid in the country to be visited and fully covering the period of the first trip;
- documents regarding the applicant's ownership of property in the country of his citizenship;
APPOINTMENT WITH INVISA LOGISTIC SERVICES
You should schedule your appointment about a month in advance of when you need the Russian visa. There are ILS offices in Washington DC, New York, San Francisco, Houston and Seattle. See ILS addresses and maps
At the appointment, they'll pull up your submitted online application, review it to ensure it's complete, print it out and affix your passport photos, and then provide you with an invoice that you take to the cashier and pay with cash or money order. The pickup date and time are on the invoice, and you'll need to bring the invoice with you, so don't lose it.
INTERVIEW AT RUSSIAN CONSULATE
For most applicants for 3-year visas (and even some single entry visas) there is an interview at the Russian Consulate. In NYC, they tell you to show up at 2pm, but I'd recommend getting there earlier, as when I arrived around that time there was already a line (not just visa applicants though, Russians also). At least in NYC, make sure you dress appropriately for standing outside given the weather. Eventually you'll be ushered inside, go through a metal detector….and wait some more in a seating area, until pointed to a row of 4 chairs across from 2 Russian Consulate officials. The actual conversation was quite brief in my case. He did ask for a copy of the hotel reservation, which I didn't have in printed form, so he asked me to email it.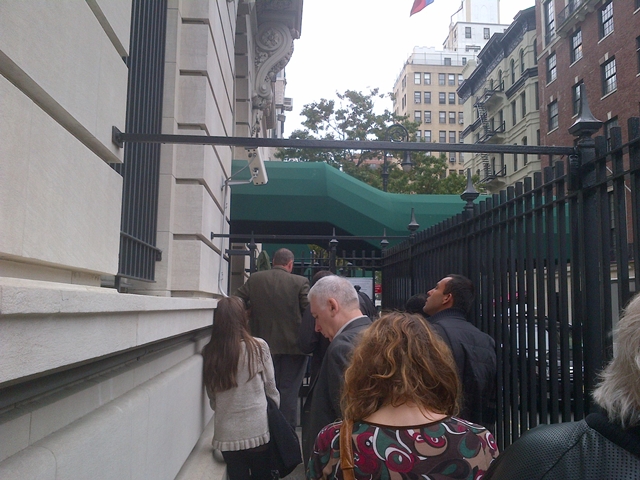 PICKUP RUSSIAN VISA AT INVISA LOGISTIC SERVICES
Actually picking up my passport, with Russian Visa inside, was mercifully fast, but perhaps too anticlimactic. You almost feel that you should be offered a vodka toast after all this…perhaps some drinks at Mari Vanna are in order!